Participate in the 'Best Smartphone Contest' to stand a chance to win Rs. 1 crore and meet Amitabh Bachchan.
How to part in OnePlus Best Smart Phone Contest Chance to win Rs.1 Crore and meet Amitabh Bachan?
Click Enter Now.
Login/Sign up.
Answer one simple question "Which one is India's Best Rated Smartphone" Answer is Oneplus 3T
Click Play now.
Task 1: Earn 200 points by sharing the 'Best Smartphone Contest' with friends on Facebook and Twitter.
New Task will be added Every Wednesday so come back on Wed to participate.
How to play :
Earn up to 200 points every week by completing tasks.
Redeem 1200 points against lucky draw tickets.
Lucky draw winners get a chance to win golden tickets.
Golden ticket winners play the final round of the contest with Amitabh Bachchan.
1 winner takes home the Rs. 1,00,00,000 prize.
1.Sign up using your OnePlus account, answer the 'best rated smartphone' question and connect using your social media account in order to proceed with the contest.
2. Weekly tasks:
New tasks added every Wednesday. Complete as many tasks as you can every week to earn points.
The maximum points you can earn on each individual weekly task is 200.
3. Methods to get lucky draw ticket:
A person can participate in the Best smartphone contest by buying the OnePlus 3T from official channels including Amazon.in, OnePlusStore.in and OnePlus Experience Store and winning a Dash Pass to the lucky draw for the Grand Finale. The rules and regulations through this channel shall be governed by respective channel partners.
Please note: Lucky draw ticket is only valid for a single purchase from one account.
Redeem your points to get lucky draw ticket and participate in the lucky draw and be one of 10 finalists in the run to win the 5 golden tickets.
4. Redemption Shop:
Redemption shop opens every Wednesday starting 30th March, 2017 and gift cards are up for grabs on first come first serve basis only.
In case of no reply or inability to participate in the final round from any of the 10 lucky draw winners, their entry will lapse and passed on to another user who will also be selected basis a random draw.
Winners of the lucky draw will then be inducted into the final round, details of which will be shared at a later stage. 5 of these winners will get a golden ticket and meet Amitabh Bachchan for a chance to win Rs. 1 crore cash prize. The other finalists will win the OnePlus 3T.
Prizes:
OnePlus 3T: The Top 10 of Leaderboard Challenge
Amazon Gift Card: Redeem with points
Lucky Draw Ticket: Redeem with points
Points:
Points can be obtained by completing 6 weekly tasks: 200 points for each task, maximum 1200 points. The weekly task is unlocked every Wednesday from March 9th to April 12th.
800 points can redeem Rs. 500 Amazon Gift Card;
1000 points can redeem Rs. 1000 Amazon Gift Card;
1200 points can redeem Rs. 2000 Amazon Gift Card or Lucky Draw Ticket.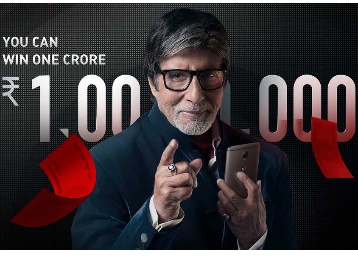 VeryVeryCheap is a neutral consumption guide platform, all promoted merchandises, deals, coupons, tips are from aggregating from internet or users' submitting, which might only be effective in limited time period and regions. Please do check the validation before purchase.